Our Mission Statement
Since 1992, Specialty wood Products has been a major source of building materials for architects, builders, interior designers, manufacturers, and craftspeople who are building log homes or using the rustic Adirondack style of home construction and remodeling. There is continued high growth in the Adirondack-style of construction and its popularity continues to spread outside of New York State. For the past 15 years, Specialty Wood Products, Inc. has been a high quality and large quantity supplier of those rustic building materials to customers throughout the eastern U.S.. Sales to large developers and out-of-state builders are the fastest growing segment of our market.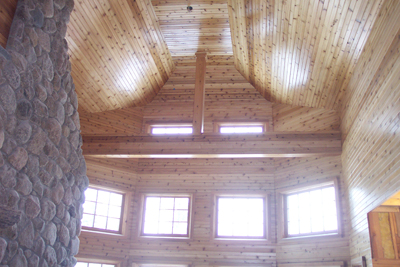 As pointed out in recent Wall Street Journal and New York Times Articles, that featured our company, one of the hottest things in second-home design is to mimic the famous "great camps" that the robber barons built in the Adirondack Mountains of upstate New York. But today's compounds, instead of being assembled from the surrounding forests, are popping up in such places as Indiana, Alabama and gated communities in South Carolina. The Adirondack style, with its trademark rough-cut stones and birch bark covered walls has become a consumer item, and one that is in high demand. As one architect put it, "everyone and his brother are out there decorating with twigs and birch bark."
We supply the raw materials that comprise and define this style of building and interior design. We are a leading producer and distributor of all rustic building materials and components including logs, railings, posts, beams, and siding, as well as birch bark, branches and twigs. We also operate several sawmills and produce log home products including lumber, specialty sidings, lumber components and specialized log packages all designed and sawn to customized shapes and configurations. We now employ 20 individuals full time, along with part-time employees. Our rustic building materials facility is located in the heart of the Adirondack Mountains but our clients are located all over the United States. In addition to achieving phenomenal growth of our business over the past ten years, our customer base has shifted from 90% local to 90% out-of-area during that period.